Back from a bit of a summer break, we're diving right in with a guest blog post. My friend and co-host of QBOShow.com, Woody Adams, has written this piece about automating data entry in QuickBooks Online. there are a variety of options to choose from, and below are a few:
Bank Rules/Auto-add—google vendor upload show result
Invoice automatically for unbilled activity—invoice L1386
Recurring transactions/auto-email invoice/sales receipt
QuickBooks payments – recurring sales receipt/ACH
Send trial balance to ProConnect Tax Online
Let's dig in to automating data entry using QuickBooks Online, and thanks so much to Woody for writing this!
First, we all know why we prefer QuickBooks Online Plus over Essentials, right? Need I remind you…
5 Users included (can expand to 25) + 2 Bookkeeper/Accounting Firms + Unlimited Reports Only Users
Class/ Location Tracking
Purchase Orders
Inventory using FIFO valuation/ track profitability with two-sided items
Billable Time/ Expenses, Two-sided items
Budgeting
100 + Reports
Yeah, two-sided items is my sleeper hit, but I just think Plus is most akin to QB Pro, minus a few features still: Labor burden tracking, finance charges, loan manager (LOL), Estimate v Actual reporting, single unit of measure, just thinking of some of the key gaps…still, Plus is the QuickBooks Online most similar in feature set. That being said, QuickBooks Online supports data entry automation in a better way than QB Desktop. While both platforms can Auto-send reports and enter Memorized (Recurring) transactions, this is where QuickBooks desktop ends re automating transaction or form entry. And this is the part of the story that QuickBooks Online continues…
"Automatically add to my books"
This feature lives inside of a bank rule. It is a tiny checkbox at the bottom of the rule window. The box is NOT default checked and probably for good reason. Imagine the havoc. However, if you are establishing a rule for how a bank feed transaction is to be categorized and the correct Payee is assigned, and you do not need to review the activity, but can just let it dive into the register once the rule is applied, then this feature is your new best friend.

Literally, I kid you not, the downloaded transactions skips the For Review tab and just ends up in the books. You can see the Mode too the bank feed applied when click the blue link at top left of transaction that is NOW in the register…
Invoice Automatically for Unbilled Activity
Quite a mouthful, eh? Even if you are not from Canada…
Go to Gear icon, Account and Settings, Advanced tab. You will see this sub-section entitled "Automation". It's the 3rd option. See screenshot below. This will enter invoices for any unbilled activity from the following posting or non-posting events: Bills, checks, expenses, time, delayed charges and bank feed transaction (not yet supported at the rule level), assuming the Billable box is checked. QuickBooks Online, like QuickBooks desktop will assume you want to create invoices for the yet to be invoiced time, material, expense, but go one step further…regardless of client, create invoices for all unbilled activity based on the interval you choose. What about Journal Entry you say? There is no Billable box on a JE in QuickBooks Online Plus at this time. Why do I say Plus you ask? Cause Plus is required if you want to tag "TME" to a customer, sub-customer or project (sort a' new) and is the only QuickBooks Online level that offers making this stuff billable. In QuickBooks desktop it is the Add Time/Costs window on route to the invoice. In QuickBooks Online Plus, it can be invoices automatically created. The below invoice was created while I had that automation feature active…Woody forgot he had all this unbilled activity for this customer once, turned on the feature, the next day an invoice was created that had 150 target lines on it. LOL. I saw the invoice. He emailed it to me because we find that kind of thing hilarious…
Qualification: This is a Global setting, no I don't meant like overseas. I mean it will create invoices like Jack Bauer would; rogue and coming in heavy guns blazin'. If you require to select what customers get what invoices for what unbilled activity, do NOT turn this feature on. Instead, leverage the next feature that QuickBooks desktop also has but only in part…
Recurring Invoices
Yes, I know. I been using QuickBooks Online since 2003 and QuickBooks desktop from way before that. I know Desktop has memorized invoices capability. However, when we're talking about automating data entry using QuickBooks Online, the same recurring invoice feature in QuickBooks Online offers the ability to include unbilled activity. This is great as while I like the more global setting, this feature can focus on a specific customer.
The above recurring invoice template will be created and any unbilled activity tagged to the customer anywhere else in the QuickBooks Online file (bills, checks, expenses, delayed charges, time) will be included. Sweet!
Recurring Sales Receipt/QB Payments/Auto-Getting Paid
One of the coolest features for automating data entry using QuickBooks Online, period. We do this with most of our subscription billing based clients. In our QuickBooks Online file, we set up a recurring Sales receipt for each client. QB Payments is turned on in Settings. I check the box in the recurring Sales receipt template to auto send to client (input their email address) and I enter their banking/routing numbers in the Payment method field. There is a PCI compliance script you can read to them, a box to check, and then I just leave it alone. Every month the clients gets the emailed receipt, 5 days later I get paid. QB Payments is free and ACH is free so it costs me only the time to set up the recurring transactions for my clients. 5 day funding period might raise a few eyebrows. I have one question to bring them down to a reasonable level: How many days does it take to collect against an open invoice for one of your clients? It's not 5 days. LOL Maybe you even have to send a drone over to their home or location. As far as you know, Shannon and I have never had to do that…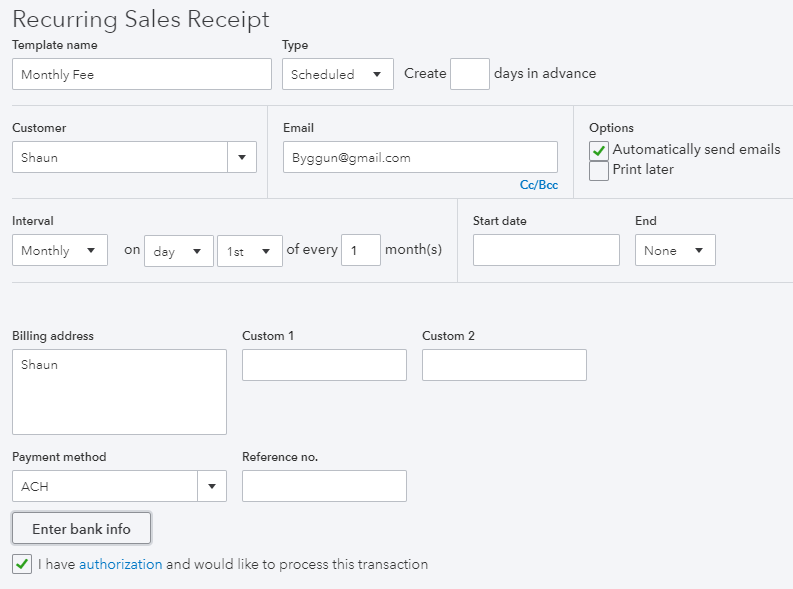 Lastly, automating data entry to the tax return in ProConnect Tax Online. We don't have any tax clients but I have seen Woody do this in webinars. No, he does not have any tax clients either, but he is a QuickBooks Online nerd just like me and you. And not having to enter data into the data fields in ProConnect Tax Online does qualify as automating data entry.
In the Trial Balance tool under the Accountant Toolbox, when in a client QuickBooks Online file from QuickBooks Online Accountant, you will see Trial Balance. This is not the report but a Working trial balance that also is the launch pad for the native integration we know have with ProConnect Tax Online. Pictures worth 15 or 16 words…
By the way, all the above functionality that automates data entry is in QuickBooks Online as it is, with no other apps required. Of course there are several great data fetching apps that help with Automating Data Entry Using QuickBooks Online. Ask me about them someday!